Rainbow Pride Badge
donated by Ashley Eyvanaki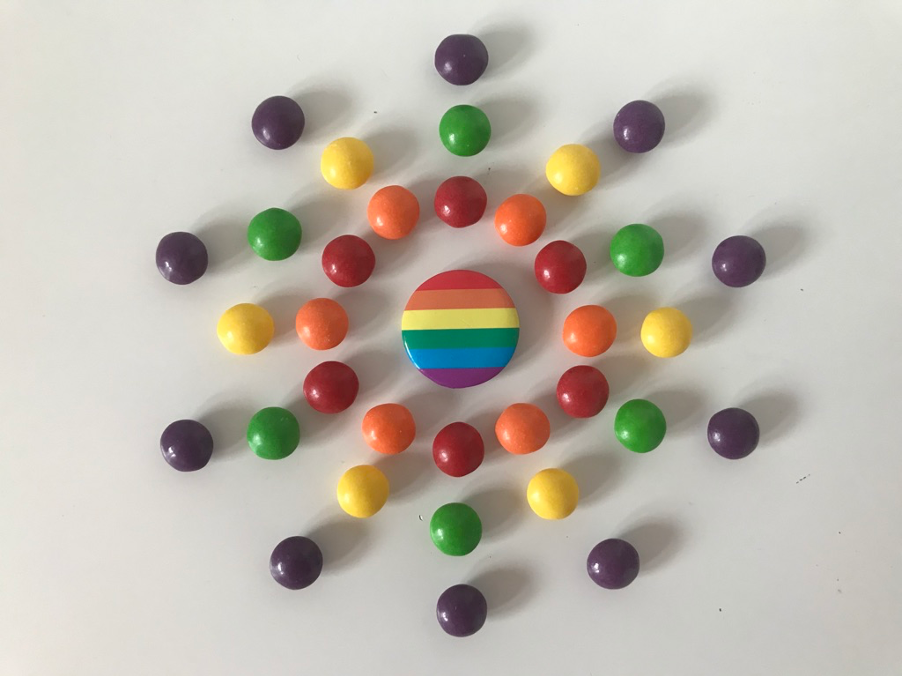 I've always collected badges as mementoes of places I've been to and memories I've made.
There's my green badge that declares 'Go Veggie!' next to an image of a carrot, that I bought jokingly after turning vegetarian back in primary school. Then there's my badge of a soot sprite from the film Spirited Away, bought during my Studio Ghibli obsession of comprehensive school. There's even my rose gold badge of a sword and shield, with the poetry of Chinese revolutionary Qiu Jin engraved into it. It states, 'Don't tell me women are not the stuff of heroes', reflecting my love of the fiercely feminist writers I came across in college.
To me, badges are declarations of the things we hold dear to us, so I love buying them to decorate my tote bags or denim jacket. As such, it was no real surprise that I gravitated toward the arts and crafts stall at Cardiff Comic Con in 2014. I remember rummaging through glass jars filled with different badges, stickers, and patches, whilst my friends browsed through racks of clothes at the stalls nearby. I even remember looking at badges decorated with designs of different animals, before coming across one that made me pause. It had stripes forming a rainbow across it, like a palm-sized Pride flag. It seemed strange to me, that something so small could be symbolic of an entire movement and moment in history.
My heart started thumping double-time as I debated buying it. At this point in my life, I was sixteen and hesitantly coming to terms with the fact that I might be a lesbian, though was still busy unravelling all of the negative connotations that word held in my mind. I certainly wasn't 'out and proud' to any of my family, or the friends I was visiting the convention with, so buying this badge suddenly became a stealth mission. The seller at the arts and crafts stall looked at me with a mixture of understanding and sympathy when I brought the badge up to the till to pay, oh-so-subtly hidden underneath a badge of a cat I didn't particularly want. I'm sure she could tell by my constant glances around that I was trying to keep my purchase a secret from my friends, so she even offered to gift-wrap them for me. On the train ride home, my friends all revealed their purchases of the day. I remember showing off my collection of comics and art prints – and a single badge with a cat on it.
Even though buying the Pride badge didn't suddenly resolve my complicated feelings of internalised homophobia, it was a real moment of acceptance to myself. When I came out to my family and friends a year later, I remember finding it tucked away in a drawer and blowing a layer of dust from it, before looking around my room for something to pin it to. After being accepted to Exeter University, I started wearing it on my backpack around campus, and it soon became a way of connecting with other LGBT+ people.
In my third year of university, I visited Gay's The Word in London, the only exclusively LGBT+ bookshop in England. It served as a meeting location for many LGBT+ groups throughout history, such as the Lesbians and Gays Support the Miners of the 1980s. The actions of the London branch were even explored in the film Prideby director Matthew Warchus in 2014, which brought much attention back to the bookshop. Whilst browsing their shelves and daydreaming about working there one day, I noticed something gleaming at the back of the shop. And aged twenty-two, openly out and proud in the bookshop I'd always wanted to visit as a teenager, I was delighted to find a felt wall glittering with Pride badges, just like the one on my backpack.