The Canterbury Bell Slide
by Ashley Eyvanaki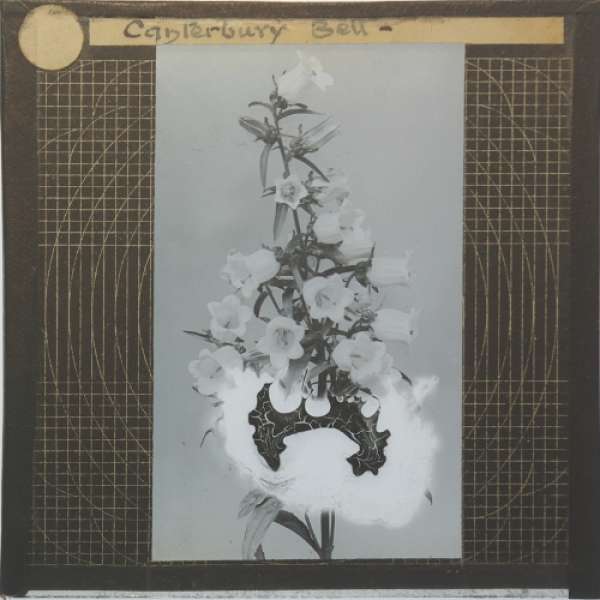 Magic Lantern Slide: Flower Studies – Canterbury Bell (RAMM Collections)
Can you spot the magic lantern slide of a Canterbury Bell? This slide by William Weaver Baker shows a flower specimen renowned for its bell-shaped, violet-blue colour. Baker was a keen photographer and produced many collections of slides with different themes throughout his lifetime, with this slide being one of fifty-two floral images.
Historically, purple flowers such as violets have been linked to the poetry of Sappho (c.610-570 BCE), a Greek poet who lived on the island of Lesbos. She is believed to be the first woman to openly express loving another woman, and her legacy resulted in the word 'lesbian' as we commonly use it today. Although only fragments of her poetry remain, many of them describe her idyllic island life and deep love of nature, as seen in the following fragment:
'Rejoice, go and

remember me. For you know how we cherished you.

But if not, I want

to remind you

[…] and beautiful times we had.

For many crowns of violets

and roses

[…] at my side you put on'
– Fragment 94, Sappho in translation by Anne Carson
There are also many other notable instances of violets appearing in connection with the LGBTQ+ community, in both colour and floral form. In the play The Captive of 1926, one female character gave another a bouquet of violets, creating sapphic undertones. This led to public uproar, resulting in the New York City district attorney's office shutting down the Broadway production in 1927. Across America, the link between violets with lesbianism led to a lack of violet sales in florists. However, in Parisian showings, many lesbian and bisexual women began to wear violets on their lapels in solidarity with one another.
The colour violet went on to appear on the original rainbow flag, which was created to celebrate LGBTQ+ love, life, and pride in 1978. Taking inspiration from this, The Violet Quill group of gay male writers would often meet to critique each other's work in New York City, from 1980 to 1981.
What colour do you associate with love? Tell us in the comments below.