Sampler with Carnations
by Ashley Eyvanaki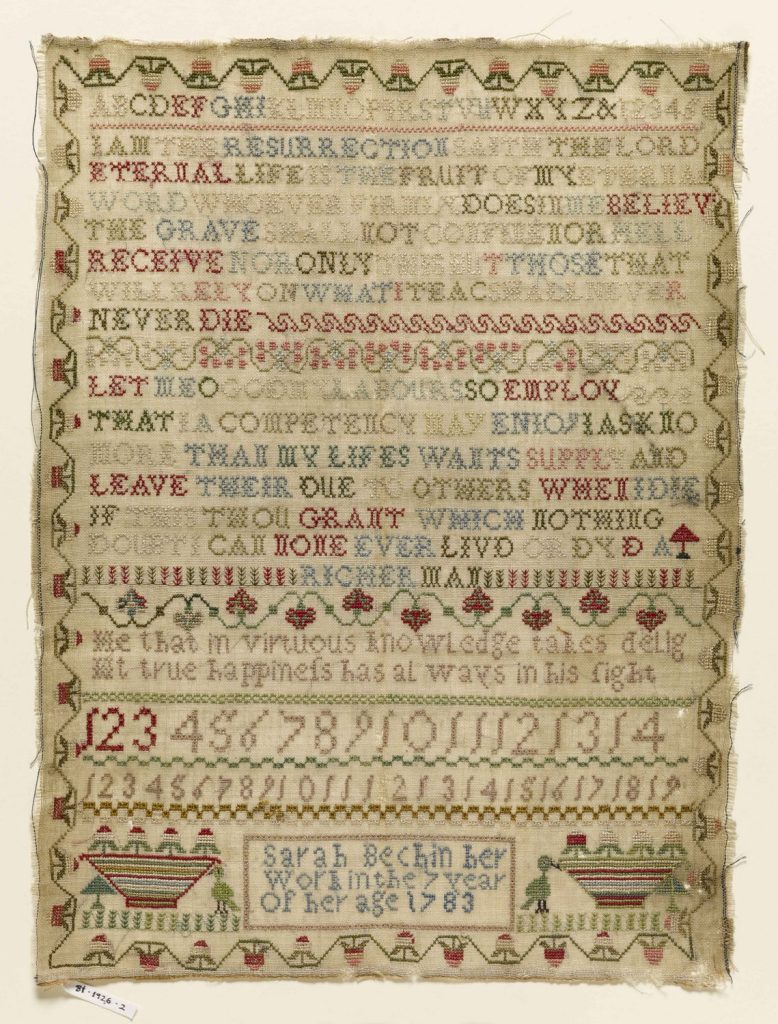 Have you seen this sampler of religious verses surrounded by botanical patterns? It is the work of a seven-year-old Sarah Bechin, who was born in Surrey in c.1776. Both strawberries and carnations are common motifs on samplers, likely as strawberries symbolise innocence and purity, whilst pink carnations were emblematic of maternal love. Interestingly, by 1892, the green carnation had become emblematic of LGBTQ+ love, when queer author and playwright Oscar Wilde requested an actor wear the flower pinned to his lapel, on the opening night of his play Lady Windermere's Fan. This resulted in many of Wilde's friends within the audience also wearing a green carnation tucked into their buttonholes, with the flower blooming into a symbol of same-sex attraction within Wilde's social circle.
This subtle homosexual coding continued into the 1900s, acting as an earlier version of the more explicit handkerchief code, in which gay and bisexual men would use different coloured hankies to indicate their sexual preferences. In late 1892, Wilde's lover Lord Alfred Douglas wrote a poem called Two Loves. It draws on natural imagery to create a floral utopia, in which heterosexual and homosexual love are personified as two beautiful youths. The former is self-assured of their status in society, whilst the latter is deeply saddened by the fact that they represent 'the love that dare not speak its name'.
However, the novel The Green Carnation by Robert Hichens was published in 1894. The plot was believed to be based on the real-life affair of Wilde and Douglas, so was quickly withdrawn from circulation. However, by this point the damage to Wilde's reputation could not be undone, and both Douglas' poem and Hichens' novel contributed towards the evidence used against Wilde during his two consecutive trials for gross indecency. He went on to be sentenced to two years of hard labour in 1895.
Despite this, Wilde never revoked his complicated feelings of love towards Douglas. Despite his ruined reputation and legal hardship, he went on to summarise his time with his lover in a letter to his solicitor Leonard Smithers in 1897, writing: 'He understands me and my art, and loves both. […] He has also ruined my life, so I can't help loving him – it is the only thing to do.'
What qualities do you look for in a partner? Tell us in the comments below!