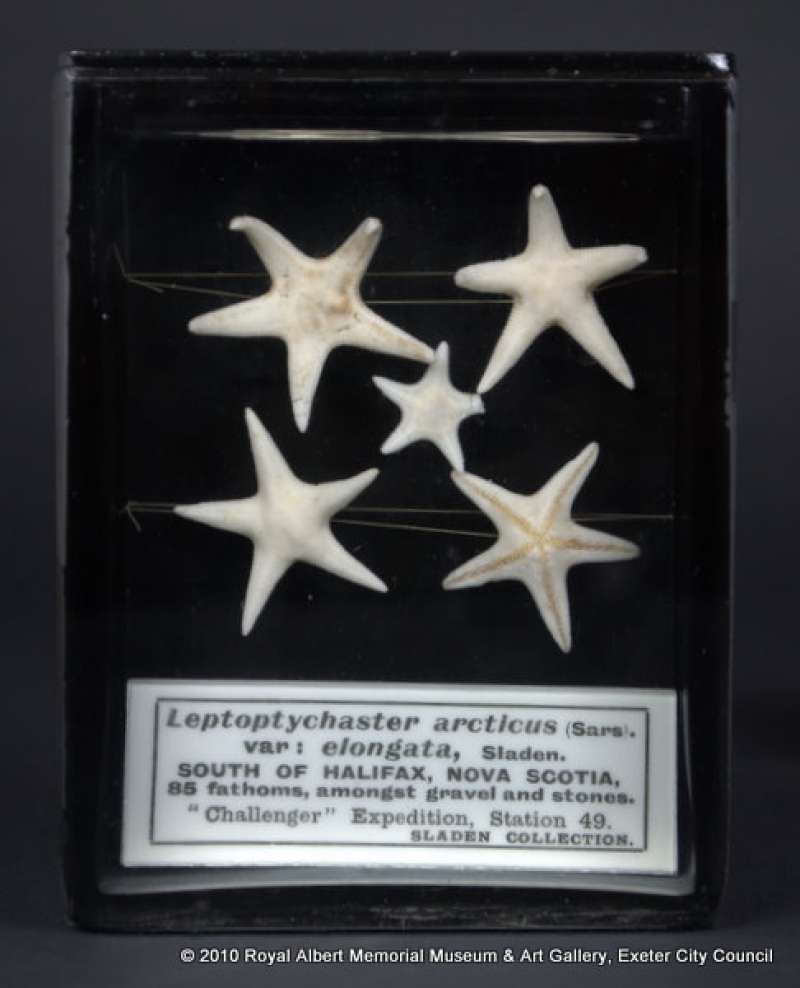 By Fred
The sea is another story

[…]

you breathe differently down here.

"Diving Into the Wreck", Adrienne Rich
What diversity lives in the ocean, yet to be discovered by humans?
These starfish were collected near Nova Scotia, Canada in 1873 as part of the Challenger Expedition. HMS Challenger, a repurposed warship, undertook the first large-scale oceanographic expedition, discovering over 4,000 previously unknown species as it circumnavigated the globe between 1872 and 1876.
When seahorses reproduce, it's the male, not the female, who carries the embryos in a kangaroo-like pouch. Seahorse has become a term for transgender men who carry and give birth to their children. Jeanie Finlay's documentary Seahorse (2019) follows Freddy McConnell, a transgender man, throughout this process as he becomes a new father.
Go Fish (1994), an American film written by Guinevere Turner and Rose Troche and directed by Troche, is considered a milestone of lesbian cinema. A low-budge indie shot in black and white, it follows a group of Chicago lesbians in the 1990s. After ten months without sex, Max is desperate to meet women but is unimpressed by her roommate's suggestion that she date Ely. Ely, already in a long-distance relationship, isn't initially interested either. Eventually, however, their relationship tentatively blossoms. The film is notable, especially for its time, for not centring around the 'coming out' story or ending in tragedy for its lesbian characters. Instead, it simply depicts a group of friends navigating love and daily life together.
In their memoir Life as a Unicorn (2019), non-binary drag performer Amrou Al-Kadhi reflects on keeping sea creatures as a teenager. They learn that physical transformation, including changeable reproductive organs, is common in many sea creatures. Admiring the free-moving, colourful and shape-shifting bodies of fish, coral and anemones, Al-Kadhi feels a new sense of belonging in recognition of their own gender fluidity. Al-Kadhi's short film Anemone (2018) explores similar themes: Anemio, a non-binary Nigerian teenager struggling to express their gender identity, feels comfortable working at an aquatics shop amongst the formless marine life and begins to transform into a sea anemone.
Fish and Elephant (2001) is often referred to as the first mainland Chinese film about lesbians. The film was an underground production (the script and print weren't submitted to the Film Bureau for approval) using non-professional actors. The two leads, Pan Yi and Shitou, were discovered at a Beijing lesbian bar by director Li Yu. Xiaoqun (Pan Yi) is the elephant keeper at Beijing Zoo and keeps a fish tank at home. Her conservative mother is determined to find her a husband before she turns thirty, unaware that her daughter is a lesbian. Xiaoqun eventually moves in with her new girlfriend Xiaoling (Shitou). Xiaoling's ex-girlfriend Junjun appears in their life as a fugitive after murdering her father. Fish and Elephant won the Elvira Notari Prize at the Venice Film Festival in 2001.
What sea creature, real or mythical, do you most identify with?